15 Jan

Micah Peters LEEDS the way with Paragon Station

Micah Peters, CEO of Clearwater Homes will build the first LEED Gold Certified adaptive reuse loft/condominium building in Utah.

In a new project starting January, 2015 Clearwater Homes will begin renovation on 200 South and 300 West in downtown Salt Lake, redesigning the former Westgate Business Center into an upscale LEED Gold Certified residential building to be named Paragon Station. These luxury lofts will be modern, sleek and GREEN. Clearwater Homes will implement renewable energy and sustainable green building techniques like using non-consumptive geothermal heat energy to heat and cool the building, thermal blocking, aggressive insulation and direct source building materials.
What is LEED Gold Certified?

LEED stands for Leadership in Energy and Environmental Design. "It is the nationally accepted benchmark for design, construction and operation of high performance green buildings." The U.S. Green Building Council (Non-profit organization) is a third-party verification system that provides accreditation to professionals who "demonstrate knowledge of green building practices and principles and who implement these practices in their construction and design." LEED has a point system and it rewards builders for sustainable practices. Points are awarded for sustainable building expertise, community improvement, proximity to public transportation, designs that cut down on water and electricity usage and minimal impact on surrounding ecosystems, designs that promote better air quality and greater access to natural light. The higher point values, the better certification (certified, silver, gold, platinum).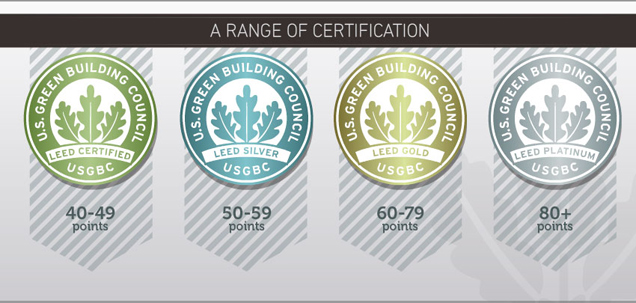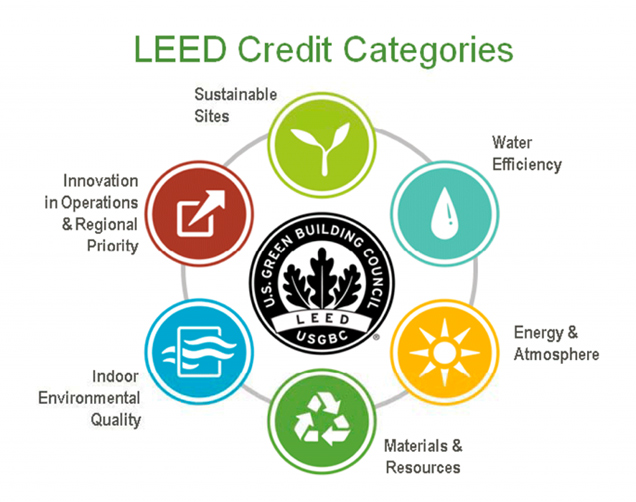 What is so great about LEED Certification?

LEED certified buildings:
Have lower operating costs.
Have a higher asset value.
Conserve water and energy. (LEED Gold buildings consume an average of 30% less energy and 11% less water).
Are healthier and safer for occupants.
Reduce greenhouse gas emissions. (In the U.S., buildings account for 38% of greenhouse gas emissions and 73% of U.S. Electricity consumption.
Show the owner's commitment to environmental stewardship and social responsibility.
Why is this important?
The demolition and construction of new buildings releases pollutants into our water and air supply, (and the waste of these projects ends up in landfills); green design cuts down on environmental pollution by a significant margin.
Green Design means business owners (builders) and the people buying these properties are committing to the environment as well as social responsibility and the health and well-being of employees and tenants.
These buildings cut down on overall energy consumption. Meaning electric, gas and water bills will be minimal for tenants and owners.
Clearwater Homes is investing in the future of Salt Lake City! We see a need for sustainable design and business practices and we are devoted to our vision. It is our hope that we can be leaders in this community by bringing cleaner, safer, more well-designed, and more energy efficient homes and urban dwelling spaces to Utah.
Learn more about the LEED Certification program: http://www.usgbc.org/leed